Shipping Info
We offer exclusive UPS service to deliver your package. Please read this disclaimer to answer any questions about the ship or arrival date for your package. If you have any questions, please feel free to call us at (417) 447-6620 or email at bookstore@otc.edu. Please note that any order placed after 2pm may not be processed until the following day.
Typically, orders are not processed on Saturdays, Sundays, and Holidays
Items ship as they become available. It is possible that you will have multiple shipments. If your order is split into multiple shipments only one fee is charged.
Shipments cannot be made to PO Boxes unless shipping to an APO/FPO
Approximate shipping time for UPS Home Delivery: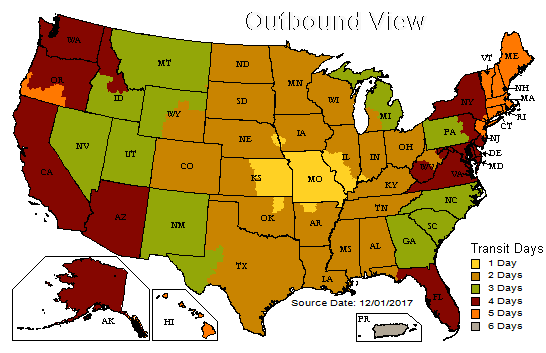 Shipping FAQ
Can my order be shipped to my OTC location instead of my home?
Yes it can. We will be setting up storefronts at each OTC location at the beginning of each semester. When finishing your online order, simply choose which location you'd like to pickup your order.
Help! I ordered the wrong book. What can I do?
Reach out to us and let us know as soon as possible by replying to your shipment confirmation email, giving us a call, sending us a direct email, or filling out the form on the Contact Us page.
I ordered my books and paid extra for Rush Processing but did not receive my books the next day, what happened?
While we try to get orders out the door as fast as we can, please allow at least 1-2 business days for our staff to pull, process, and ship your order. Once your order ships you will receive an email with a tracking number.
I selected used books when I placed my order, why did I receive new books?
In order to process orders in a timely manner, we have defaulted to allow substitutions of course material conditions during processing. What that means is we will send you a new book in place of a used book when used books are no longer available. If you would like to ensure the condition of your order you may click on the item in question and select "No" for the "Substitutions Allowed" prompt, then add the item to your cart.

Please note that while you may be able to view both new and used pricing, this is not a guarantee that we currently have stock on hand in your desired condition.