Order Shipment
To best align with current college practices we are processing orders with limited staffing. Please allow for slightly longer handling time than normal.
We offer exclusive service via UPS to deliver your package. If you have questions, please call or email us.
Any order placed after 2pm CT may not be processed until the following business day.
Orders are not processed on Saturdays, Sundays, and Holidays

Items ship as they become available. It is possible that you will have multiple shipments.

If your order is split into multiple shipments only one shipping charge is applied.

Shipments cannot be made to PO Boxes unless shipping to an APO/FPO. You must contact us for these circumstances so special arrangements can be made.
Approximate transit time for UPS Ground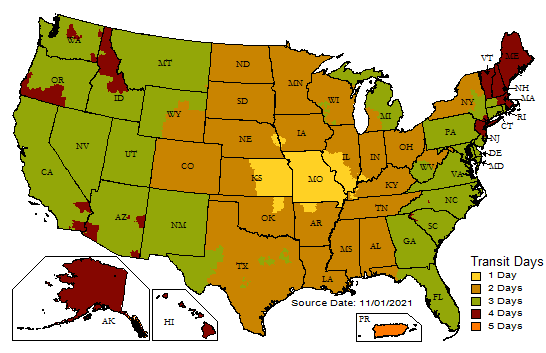 The OTC Bookstore cannot guarantee delivery according to the map above during the Coronavirus (COVID-19) pandemic.
Please refer to the UPS Service Guarantee page for more information.
Shipping FAQ
Not at this time. Please select UPS Ground shipping at checkout to if you are unable to visit Springfield. Before each semester, your local campus may have promotional codes from the bookstore for free shipping.
Reach out to us and let us know as soon as possible by replying to the shipment confirmation email you received shortly after order placement, or contacting us.
We try to get orders out the door as fast as we can. Please allow at least 1-2 business days for our staff to pull, process, and ship your order. Once your order ships you will receive an email with a UPS tracking number.
In order to process orders in a timely manner, we have defaulted to allow substitutions of course material conditions during processing. This means we will send you a new book in place of a used book when used books are no longer available. Please note that while you may be able to view both new and used pricing, this is not a guarantee that we currently have stock on hand in your desired condition.
Any combination of items within your online shopping cart which combined subtotals equal $249.99 or higher will automatically have their available UPS shipping methods reduced by $14.99. Orders with amounts above $249.99 only due to taxes or shipping will not qualify.
The OTC Bookstore highly recommends placing as much as you think you'll need in a semester in one full order to get free shipping. Additionally, the earlier you submit your order the better, as stock diminishes for all of our items as we approach the next school semester.